Presentation #1 – about ICO platform:
Presentation #2 – about service at our group of companies
The ICO platform consists of 3 main components:
— Set of smart contracts, issue of ERC20 tokens, accounting for non-ETH currencies
— Token-accounting for receiving non-ETH currencies and subsequent distribution of tokens (blockchain monitoring)
— Personal cabinet: registration, wallets enter, widgets, transactions view, etc.
The first component is mandatory. The other two are optional. They work together in any configuration and complement each other, performing different functions. Other options may also be included in the platform (see Services), for example "security", "conducting ICO for an order", etc.
The ICO platform from CryptoB2B was audited in April 2018 on security and reliability issues – none of the least significant problems have been identified. On the other hand, we are engaged in on-line auditing of other people's projects.
CryptoB2B ICO platform demo examples:
The design option for the Dashboard for the most discussed ICO from Olga Buzova in Russian is buzcoin.io. It was open from 2018 to the summer of 2019: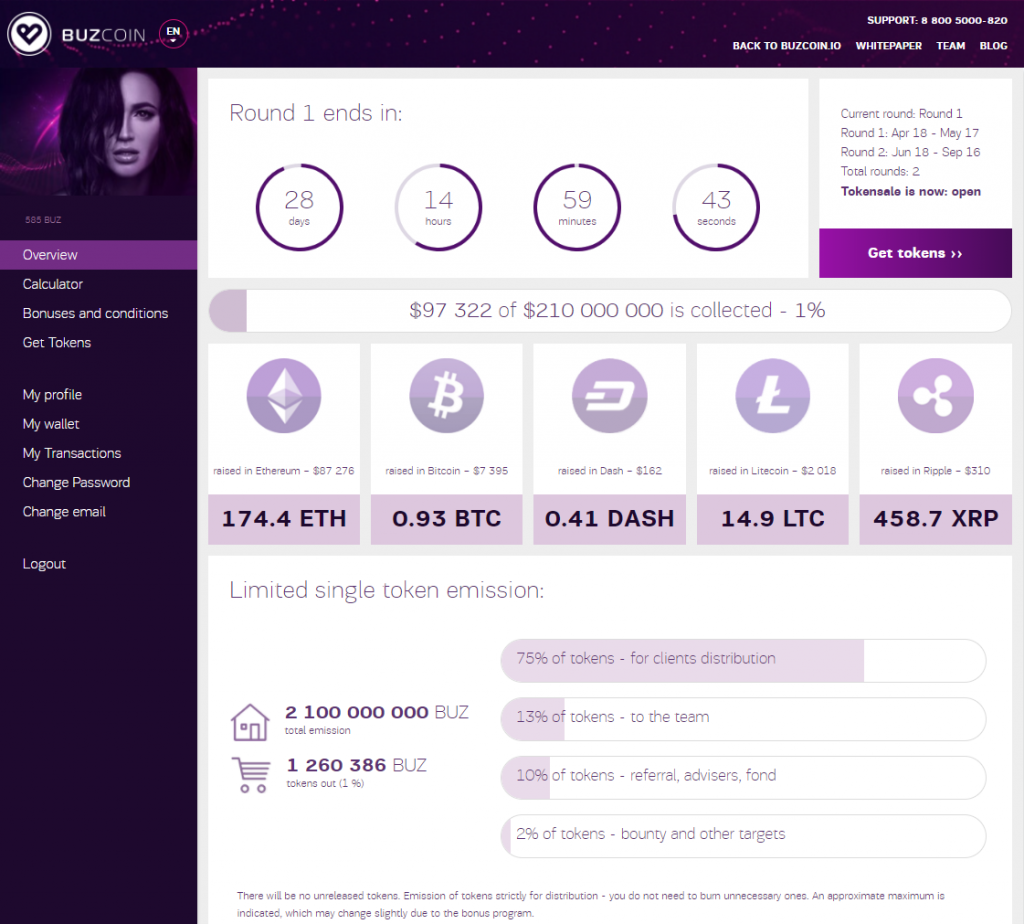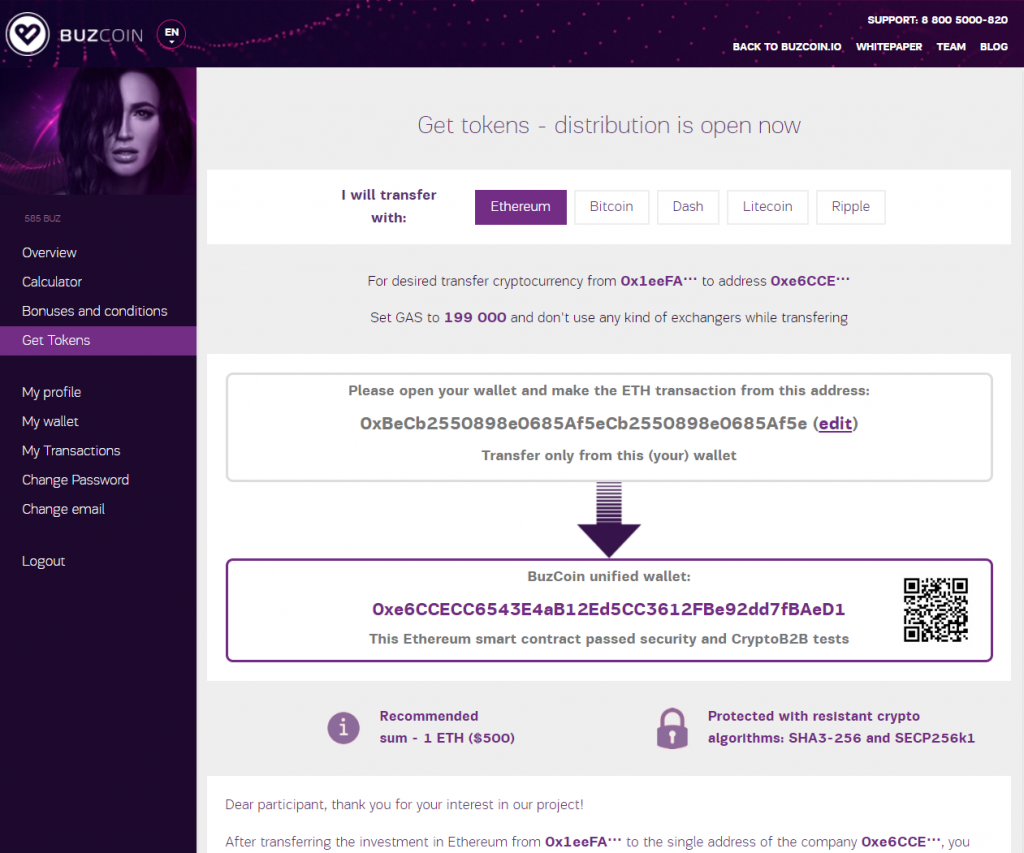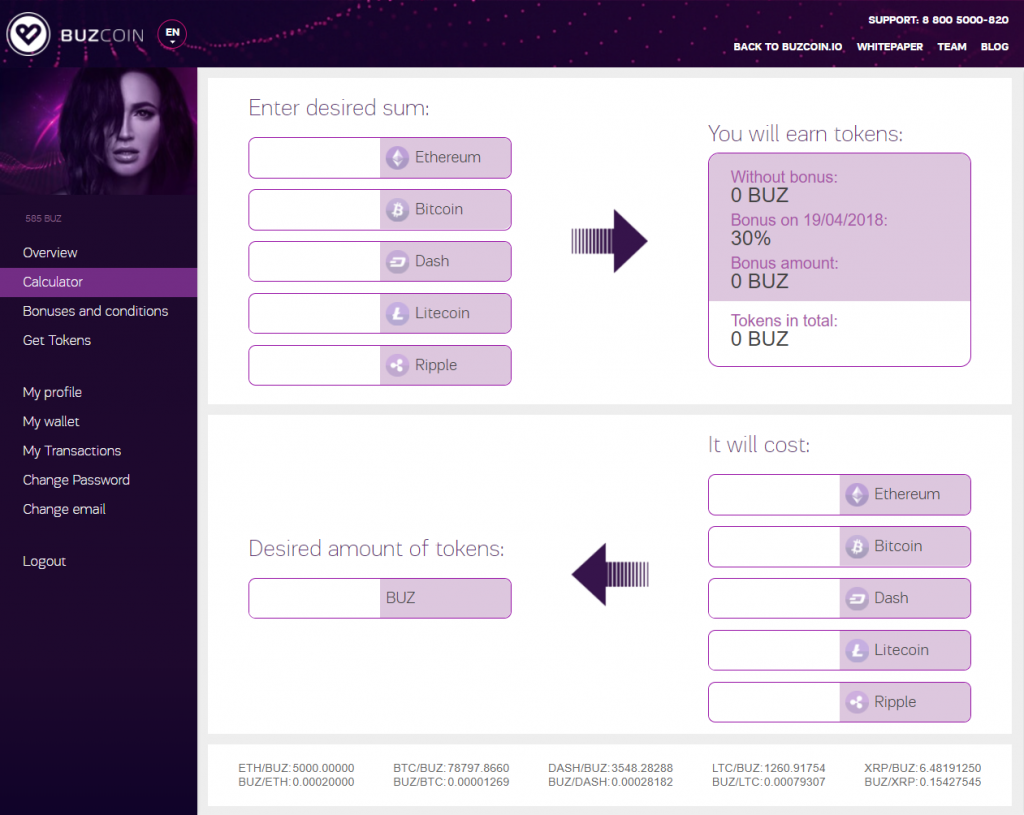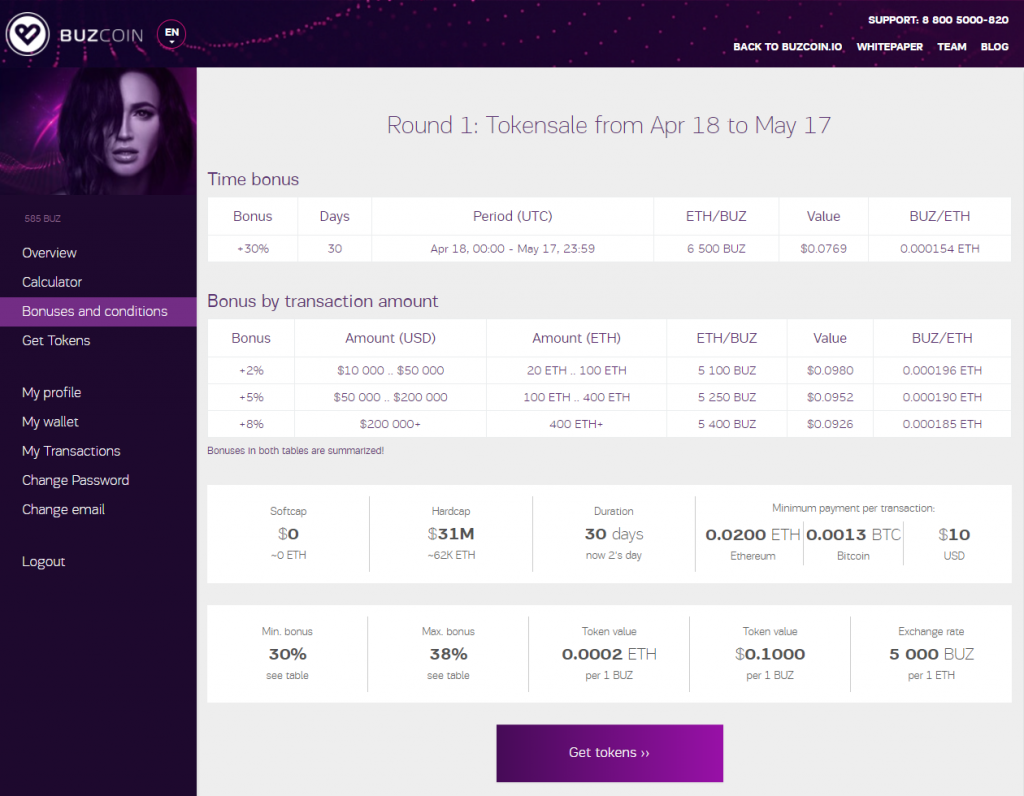 10+ screenshots from the control panel of the Personal Cabinet for ICO
Due to the large number of pictures, the material on a separate page:
>>> https://CryptoB2B.io/admin-panel-screenshots/ <<<
The price of the CryptoB2B ICO platform
The cost varies very much, from the number of functions and payment scenarios. There are customers who prefer to pay ahead, others – then. There are VIP customers ordering a huge package of services at once – creating a company's jurisdiction from scratch, obtaining bank licenses, full marketing packaging with promotion, installing an ICO platform, ordering advisers (business and IT teams), developing a white book and the project itself. There are customers who have a very limited budget. It is possible to clarify this only during oral conversation.
Without a conversation, the cost of our platform: from $ 3000. The ceiling is not limited and can reach up to $ 200-300K. Yes, in some cases it's possible for $ 3000.
Turnkey installation: 2-3 weeks.
Have questions? Order a free consultation on ICO!
Different ICO campaigns of our clients have different functions, different requirements for the KYC / AML procedure and other features. For example, we can collect not only the crypto currency, but other popular tokens such as EOS or Tether (TOP20 currencies / tokens according to coinmarketcap.com), as well as to integrate with the fiat payment systems – PayPal, UniPay, Webmoney, ordinary Russian or European banks, support bank cards and interbank transfers. At the request of the client due to KYC features, it is possible to release frozen tokens and integrate user's verification procedure (personal data, passport, etc.).
The first time reading the ICO sites it is difficult to understand what exactly from the abundance of the described services you need, at what steps begin the ICO. We will give you a free consultation, at least save you from spending money on unsafe / leaky products (85% of the market offers) and try to clarify the tasks of primary and secondary importance (the usual phenomenon – the client is focused on minor things). For communication, leave your contact: